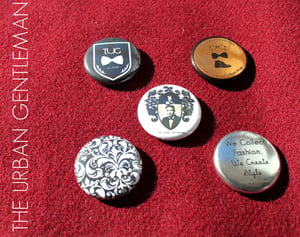 $

7.00
SOLD OUT! WILL BE BACK SOON!
It's your new staple. Or should I say, staples. Designed with several occasions in mind these First Edition T.U.G badges/pinbacks can be worn everywhere and on everything... hat, jacket, bag, suit lapel, tie, even your canvas shoes! Every Urban Gentleman (or lady of one) should own atleast one set.
Set of 5 includes:
- classic Urban Gentleman logo
- modern Urban Gentleman logo
- damask print (a favorite)
- Urban Gentleman motto, "We Collect Fashion, We Create Style"+
- Urban Gentleman motto,"The Original Urban Prep"+
Each set comes in a classic, hand-stamped, eco-friendly reusable cotton bag. We were gonna show it, but why not let it be a surprise?

All items are made in the USA, and are personally packaged and hand-stamped by The Urban Gentleman.
+special edition gold and silver